What makes the Canon PowerShot SX40 HS
the Best Ultra-zoom Camera?
Versus Nikon P500, Canon SX30 IS (older model), Olympus SP-810UZ and Sony Cyber-shot DSC-HX100V
Canon SX40 HS is THE ultrazoom camera to buy this year. The SX40 HS replaces the popular SX30IS which is already become quite old when comparing it to the competition. People love ultrazoom cameras because they answer a wide of photographic needs. Being able to get so close to your subject can really help you get some unique shots that others just can't. The Canon SX40 HS certainly addresses some of the "issues" that customers had with their SX30, and it's certainly a worthy upgrade to the older model. It features the same 24-840mm (film equivalent) focal length 35x optical zoom, a brand new ultra-fast Digic 5 image processor, Back-illuminated sensor and an improved 4.5-stops lens-shift image stabilization. The Canon SX40 HS certainly worth the attention of many photographers, both beginners and advanced alike.
I personally know some people who already got a DSLR camera, but they fell in love with the long zoom range that the SX40 offers. I am among of those people. If I needed a ultra-zoom interchangeable lens in the same focal lengths of the SX40, I would have needed to pay thousands of dollars to get it on my Nikon. Of course you have the option to buy the Canon 100-400mm lens and use a 2x extender, but this is an heavy and bulky equipment to carry around, and many people don't want that. To in terms of price and portability, sometimes it's better to purchase a second camera to get those specific long shots that you are after.
Let's go over the specs and compare the SX40 HS versus it's predecessor, the Canon PowerShot SX30 IS and see what all the buzz is about. Let's start.
Sensor
The first change that Canon has made with the new SX super-zoom camera is to replace the CCD sensor with a newly-developed high-sensitive Back-illuminated sensor. Canon did it for a good reason, it wanted to allow photographers the ability to capture high quality shots in low-light (high-ISO), but also to improve the image quality in general. Ultra-zoom compact cameras have a smaller sensor compared to high-end compacts and mirrorless. The reason is that in order for the camera to keep its small size and use a smaller lens, camera manufacturers need to use a smaller sensor. With smaller sensors, small and lightweight lenses can be utilized, making the camera more compact and portable.
With a small sensors comes a few problems. First of all, the photo diodes (light gathering sensors) are very small. Because of that, the sensor is less sensitive to light, and that leads to poor image quality, especially noticeable in higher-ISO (usually ISO400 and above). In order to enhance the sensor sensitivity, Canon has decided to embrace a backside-illuminated sensor that enhanced the light sensitivity of the sensor two times as much compared to non BSI sensor. That's a big improvement, and in almost all cases, it leads to a big improvement in image quality, especially when shooting with high ISO in low-light. It's not a magic formula, but it works pretty good with very satisfactory results.
Canon claims that the noise on the Canon PowerShot SX40 HS has been reduces by seventy five percent compared to the previous model. That's due to the use of the BSI sensor and DIGIC 5 image processor. So it's a combination of improved hardware and software algorithms which allow the PowerShot SX40 HS to beat the SX30 in terms of image quality. As a digital photography blog owner and enthusiast photographer, I read a lot of comments about many cameras. As you can see on my blog, the Canon SX30 IS attracted more comments than any other camera. I've read the positive comments and negative comments, and came to a general conclusion that many people just weren't so happy with the IQ of the PowerShot SX30IS. So with the new hardware improvements, Canon hope to vastly improve upon the previous model.
Just for comparison, the Sony Cyber-shot DSC-HX100V and Nikon Coolpix P500, both utilize a BSI-CMOS sensor, so Canon just couldn't afford to stay behind the competition. The HXV100 and P500, both have proven to provide very good image quality, many thanks to the BSI sensor. I've also heard many comments about the high-ISO performance of the HX100 and P500 in high-ISO, but even if the results weren't excellent, I just wondered how the image quality would have been if Nikon or Sony went with a non-BSI sensor?
So looking at the positive side, the image quality of the Canon PowerShot SX40IS SHOULD improve upon its predecessor by quite a lot.
Another thing worth mentioning is the sensor's resolution. It doesn't happen everyday that we see a company actually going for a lower megapixel resolution. The Canon PowerShot SX40 HS has a 12.1-megapixel sensor, compared to 14.1MP on the SX30IS. That by itself can help enhance the sensor's light sensitivity and lead to an improvement in image quality. So that's a good thing that Canon has done with the new camera, lowering the resolution by 2MP. Combining this and all that was said above, we should certainly expect to see an improvement in IQ. I think that the 16MP resolution didn't quite help the Sony. It actually reminds me about the difference in high-ISO performance when comparing sample images of both the Sony NEX-7 and NEX-5N. The 5N has a much lower resolution compared to the NEX-7 (16MP vs 23MP), which certainly didn't help the NEX-7 to outperform the 5N. More than that, the NEX-5N actually crushed many cameras in the high-ISO test, including the Canon 5D Mark II (yes, you read it right). So less megapixels in today's technologies in a superzoom camera is a good think, Kodus to Canon for that.
Canon SX40 HS - BSI-CMOS 12.1MP
Canon SX30 IS - CCD 14.1MP
Olympus SP-810UZ - CCD 14MP
Nikon P500 - BSI-CMOS 12MP
Sony HX100V - BSI-CMOS 16.2MP
* I also want to add that according to Canon, the new sensor was built with the same technologies used for Canon EOS DSLR cameras, so that's a good thing (I guess).
Ultra-Zoom Lens
The lens is probably the most important element in any digital camera. A high-resolution sensor without a good glass doesn't go a long way. The Canon PowerShot SX40 HS utilizes a Canon brand glass. So in terms of optical quality, no doubt that the SX40 HS features a high-quality glass. The lens covers a focal length ranging from 24mm to 840mm (film equivalent). That's the same focal length range used on the Canon sX30 IS (24-840mm f/2.7-5.
, a 35x optical zoom. This long zoom range is very versatile for many type of photography scenes, including sports, landscape, kids, indoors, macro (in macro mode), portrait, etc. In fact, it doesn't offer an ultra-wide angle (smaller than 18 mm), but other than that, it covers most of the amateur/enthusiast photographer's needs. It's an all-around super-zoom lens. The lens retracts using a power driven zoom motor, so when not (or shooting wide angle shots), the size of the lens is quite small. That also helps to keep the camera as compact as possible when traveling. It's not a camera that you can put in your pocket, but certainly portable so you can take it with you to many places.
On of the reason Super-zoom cameras are very popular is that those cameras are the chosen ones for travelers. People on vacation prefer to carry a compact camera, but a camera that can help them capture beautiful moments without being restricted. With a regular compact-zoom Point-and-shoot, you might find yourself a bit annoyed with the fact that you just can't get any closer to your subject (ie. let's say a 25-120 mm lens). It happened to me when I bought the Tamron 55-200 mm for my Canon DSLR. It just feels that the zoom just wasn't enough sometimes. Of course with the Canon PowerShot SX40 HS it's a complete story. We are talking about a 840mm equivalent magnification. That's a HUGE ZOOM, like your own compact telescope that can capture photos! You want understand that until you really try it yourself, going from a 24mm wide angle shot to a super duper 840mm zoom in a two seconds - just WOW!
The Canon PowerShot SX40 HS also features an improves image stabilization with 4.5-stops advantage. However, the camera has a smart feature called '
Intelligent IS
'. This feature built-in the camera, allows the camera to decide on the type of image stabilization to use at a given moment. For example, in macro mode, the camera will switch to Macro Hybrid IS which compensate camera shake both vertically and in angular directions (same as with the Canon EF 100mm F2.8L interchangeable lens). Another example, is when you put the camera on a tripod or a steady surface, the camera will automatically shut down the image stabilization mechanism because it's not needed and to prevent image blur due to the tiny movements of the IS motor. There are seven IS modes: Normal IS, dynamic IS, Powered IS, Panning IS, Macro IS, Tripod IS and Dynamic Macro IS. Every mode answered different photographic situations. The photographer doesn't need to do anything, the camera does it for you - that's why it is called 'Intelligent'. There are things that I think that should be left automatic, and this is one of them.
So there you have it, an ultra-zoom wide-angle lens with 35x optical zoom, Intelligent IS with 4.5-stops advantage - pretty cools and USEFUL, isn't it?
If we compare the Canon PowerShot SX40HS vs Olympus 810UZ, Nikon P500 and Sony HX100V, we can see that the Oly has a longer zoom (864mm) and the Nikon P500 has a wider angle lens, but both the Sony and Nikon offers "only" 810mm magnification. Of course the difference in the tele are less of a problem, actually not a problem at all. The Sony HX100V is less wide than the SX40 and SX30, which is more important than the tele-end magnification.
Canon SX40 HS - 24-840mm IS f2.7-5.8 (lens-shift stabilization) + Intelligent IS and 4.5-stops advantage
Canon SX30 IS - 24-840mm IS f2.7-5.8 (lens-shift stabilization
Olympus SP-810UZ - 24-864mm f2.9-5.7 (sensor-shift stabilization)
Nikon P500 - 23-810mm f3.5-5.7 (sensor-shift stabilization)
Sony HX100V - 27-810mm f2.8-5.6 (lens-shift stabilization)
LCD Display
This is an area where I am quite disappointed with the Canon PowerShot SX40IS. The camera comes with a 2.7-inch 230K-dots Fully articulated LCD display. The articulated LCD display is very useful sometimes, but why Canon opted for a 2.7-inch display? - All the other cameras, the HX100V, Nikon P500 and Oly SP-810UZ, all utilize a 3-inch display. Even the resolution is very low, same as the Oly, but both the Nikon coolpix P500 and the Sony Cyber-shot DSC-HX100 have a 921,000 dots display. For the latest generation camera I expected Canon to comes up with a larger and higher resolution display.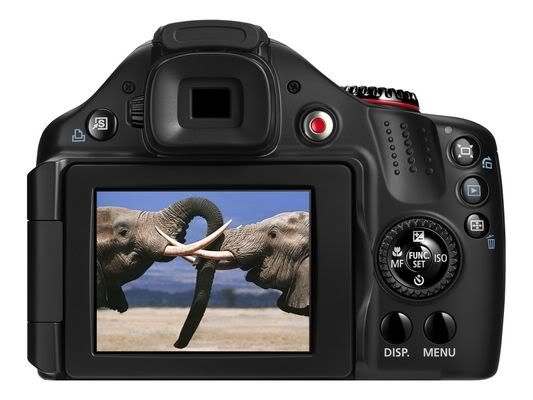 All the ultra-zooms, except the Oly are equipped with an electronic viewfinder (EVF). Maybe Canon has decided to reduce the costs and thought that many people that buy those cameras use the EVF anyway. Whatever the reason is, Canon has disappointed me here. For many photographers, the back display is a very valuable feature for composing there images. It allow the photographers to compose the photo, increase usability and visibility and helps to check out if your image is out of focus. All in all, the back LCD is a very important component that any digital camera has. This what externally separate a digital camera from a film camera. We aren't spoiled, it just seems that the other vendors DO care about it and Canon does not
. Don't get me wrong, I don't thing it's a deal breaker, but it a shame that almost all the other cameras have a larger and sharper displays and the SX40HS, which is the latest, doesn't have this kind of display . At least Canon didn't ditched the tilt/swivel display. OK, never mind, let's continue on..
Canon SX40 HS - 2.7" 230K Fully articulated
Canon SX30 IS - 2.7" 230K Full articulated
Olympus SP-810UZ - 3" 230K Fixed
Nikon P500 - 3" 921K Tilting
Sony HX100V - 3" 921K Tilting
Continuous Shooting
Another useful feature on any digital cameras is the continuous shooting mode, which allows photographers to capture sequenced images by pressing the shutter release button once, hold it, and the camera capture sequence images on after the other (until the buffer is full). So why it's important? - It's important mostly for sports and fast actions photographers. In fact, a ultra-zoom lens with a fast burst is a photographer's dream come true (as long as the AF speed is fast too). The Canon PowerShot features a maximum burst speed of 10.3 frames-per-second. Actually 2.4fps in P mode and 10.3 fps in High-Speed burst HQ mode. However, when you read the specifications page on Canon's official website, you can see that their is a start near that line. At the bottom there is a line that say: "Maximum of 8 continuous shots per burst". So what it means, that in practice, the camera capture sequence shots at a 10.3 fps frame-rate, but it is limited to 8 shots per burst. So the 10.2 fps tells us about the speed, but you can't get the camera to capture the whole 10 images at that speed.
This is very important area where the specs doesn't reveal the whole truth. In fact, you should read the manual and see that most cameras (DSLRs too) are limited with the amount of photos they can capture at any given time. The reason is the buffer size and the time it takes to write the data to the memory card - and that's if you are using a fast card, because a slower memory card can reduce the performance of the burst as well. I remember watching a video review about the Nikon D7000 (I think it was on cameralabs.com) where the editor has shown that the D7000 has a fast continuous shooting speed, but it is limited by its buffer capacity. So when you start shooting, the camera stops after a few seconds. He compared the performance of the Nikon D7000 DSLR versus the Canon EOS 60D, and you can clearly see (And hear) that the 60D just kept shooting and shooting and it took it about (if I remember right) 30 seconds until the buffer was full and than it slowed down, capturing photos at a lower burst speed. So next time you go over the specs, don't forget to check the buffer capacity in the manual, just to be sure that you get the whole burst speed thing correctly. That's why it as a star near to it, Canon like other vendors enjoy using high numbers (good for marketing) but in fact it doesn't tell the whole truth. Oh, also check that the maximum burst speed works with the camera's full resolution. Some vendors write 10 fps, but that's in a lower resolution, not the full one.
Compared to the Canon PowerShot SX30 IS, the SX40 HS is certainly faster in this regard, and faster than the other cameras in its category.
So how the Canon PowerShot SX40 HS compares to the competition:
Canon SX40 HS - 10.3 fps
Canon SX30 IS - 0.6 fps
Olympus SP-810UZ - 0.73 fps
Nikon P500 - 8 fps
Sony HX100V - 10 fps
HD Movies
Canon is among the best when it comes to video recording. The Canon SX30IS featured only 720p movies, the SX40 now features Full HD movie recording at 24 frames per second. Both the Nikon P500 and the Sony Cyber-shot DSC-HX100V allow full HD 1080p movies (Sony in 60i and Nikon in 30p). All ultra-zoom cameras, except the Oly can record videos with stereo sound. A full HD will certainly attract more customers to bu this brand new ultrazoom. It's Christmas soon, and Canon knows that without full HD videos, people might prefer buying a different gift, so it had to be done. In fact, I assume that all future cameras will come with full HD movie recording feature, maybe not the cheapest ones though.
I've read some very good comments about the SX30IS video quality, and it seems people really enjoyed shooting movies with it. The enjoyment factor doubles when we talk about ultra-zoom cameras, where you can zoom very close to your subject and capture some unique videos (just search for "Canon SX30 sample video" or "test movies" on YouTube and you'll what I'm talking about. Just make sure that you aren't watching Sony SX40 videos. The Sony SX40 is s Sony handycam camcorder.
OK, enough talking, let's jump right into a Canon PowerShot SX40 HS 1080p HD video test (sample video).
I must admit that the video quality is EXCELLENT. WOW, I didn't expect it to be that good. By the way, thanks for 3puncte for uploading this great Video test review to YouTube. Make sure that you watch the video in 1080p full hd.
A few remarks about the video quality..
First of all the autofocus is very fast and works pretty damn good (look at the bird flying as the camera tries to focuses on it). Second, the 35x zoom is absolutely breathtaking. Third, the image stabilization has proven to be very effective (see the panning part). You just can't comprehend what is a 35x zoom until you see it live in video. The colors of the video are well saturated and the overall just blows the competition away!
Canon certainly manged to comes on top this time - BRAVO!
* By the way, for those of you who are troubled with the rolling shutter phenomenon ("jello effect"), it exists even with DSLR cameras as well, and it just the way it is right now, so don't worry about too much, and don't pan the camera too fast from one side to the other.
What's your Opinion?
AS you can see, the Canon SX40 IS is one of the best, if not THE BEST ultra-zoom camera we have right now. It has its disadvantages but overall I'm very pleased with what I see. If you are saving for a point-and-shoot camera to buy this Christmas, this is one of the most recommended ones.
Order the Canon PowerShot SX40 HS from Amazon here
What do you think about the new model?