Sony
SLT-A77
Preview
The announcement of the
Sony SLT-A77
didn't came as a surprise, because some of the camera's specs and photos have already been leaked to the web a few months ago. Even so, it doesn't take from the wow factor even when we read the specs the second time. The Sony α77 DSLR is a new-generation camera. It replaced the older A700 model, which was was an evolutionary step from the
Konica Minolta Maxxum 7D
. The shape of the A700 was inherited from the 7D, but now Sony has taken this camera a few steps forward, integrating it's latest digital imaging technologies into a semi-pro ultra-fast and well-designed camera.
The
Sony α77
is probably one of the most awaited cameras this year, leaving alone the upcoming D800, D4s, Canon 5D Mark III and other models which are expected to be revealed this year or at the 2Q of 2012. I personally wanted Sony to release a new camera with such features, because I wanted the competition engine to keep moving forward in a fast paste. I was fed up with new models that are more an update, rather than a real upgrade. The Sony SLT-A77 is that camera that we were waiting for a long time.
When going over the
specs
, we can see why Sony worked so hard delivering such a
unique and heavily featured camera
. Sony wants Canon and Nikon photographers to join its forces, and Sony starts this revolution by targeting the enthusiast crowd, rather than the professional photographer's market. It seems very reasonable, and when looking at the A77 specs, we can see that Sony A77 is competing against camera models like the Canon EOS 7D, Nikon D300s. In fact, it was designed to compete against the next generation cameras from Canon and Nikon (ie. Nikon D400, Canon 7D MKII, etc.).
Exmor™ APS HD CMOS
The most dramatic change in the A77 is the newly developed
24.3MP
sensor. Those of love to print their photos and crop their photos, will certainly enjoy having such a high resolution image output. I know that you first look at that resolution you think that Sony had probably made a mistake going with such high resolution. What if it was a 12MP sensor, we might have seen a camera that can even compete against the Nikon D3s in low-light. Maybe I exaggerated, but I personally not a favor of very high resolution sensors.
According to Sony, not only that the image quality at this high resolution has not been decreased, but actually increased due to the latest sensor and image processing technologies. The new sensor is capable of recording 1080p60/24 (progressive, although interlace is still available) in AVCHD codec. In fact, this is the highest resolution among all APS-C DSLRs to date (8/2011). Sony has a long history as a sensor manufacturer, and many trust Sony that it was able to achieve its goals this time and produce a sensor that there's nothing like it on the market today (but maybe soon will). The viewfinder provides 100% framing accuracy.
OLED Electronic Viewfinder
On of the many issues with translucent mirror cameras that people have was with the EVF. It seemed that the resolution and LCD quality just didn't satisfy the enthusiast photographer's crowed. When we look through the viewfinder, we don't want to see any pixels. We want to have the same experience as if we use an optical viewfinder. Sony has answered the demands and the Sony A77 now featured a Tru-Finder™ OLED electronic viewfinder. By utilizing OLED technology, Sony was able to reduce motion blur to minimum. In fact, this is the first camera to use an OLED electronic viewfinder, other cameras used a LCD technology.
All in all, that means that an electronic viewfinder won't be a deal breaker for those who opted for a Sony Translucent Mirror camera, but decided not to buy those type of cameras due to a low-quality EVF.
Upgraded BIONZ® image processor
Sony has updated the BIONZ image processor. You need to know that when camera manufacturers introduce new cameras, the might update the image processor algorithms even without saying a single word. Only when a major update has been taken place, we get a change to hear about it. The same happened with the Sony A77 BIONZ processor. Sony has updated the new BIONZ image processor give it the speed and processing power it needs to process 24.3 megapixel images, reduce noise at high ISO and enable the Sony A77 to capture 12 frames-per-second in its highest resolution. You should expect the camera to perform like a rocket in every way. Whether you power up the camera, take sequence of shots, navigating through the menus or recording Full HD progressive videos.
Another cool thing that the upgraded BIONZ image processor can do is to capture six images in a fraction of a second and combine them to produce a clean image, especially when shooting in low-light and in Multi-Frame NR mode. We've start seeing more cameras utilizing this feature. I think that FujiFilm was the first one, but I'm not hundred percent sure.
SteadyShot INSIDE™ stabilization
One of my most favorite features on Sony Alpha cameras is the built-in Image stabilization mechanism. That means that you don't need a lens to have an image stabilization, because the mechanism is built right in the camera and works with any lens that you attach to the A77. We all know that image stabilized lenses cost more and weight more than non-stabilized lenses. Having the SteadyShot can save you money when purchasing new interchangeable A-mount lenses for your new camera.
0.05 sec Release Time Lag
Before we talk about the release time lag, you probably want to know what 'Release Time Lag' is? - Release time lag is the time between pressing the shutter release until the time the camera captures the image. The shorter the Release time lag, the better. Sometimes you want to shoot a fast fast moving subject. The problem is with long release time is that when you click the shutter, the subject might be in another place, not as accurate as you wanted it to be. Many photographers won't notice it and for many of us it's not a big issue. It becomes more of a concern when you shoot sports, car race or any event where you want to precisely capture the subject in its current position.
Sony SLT-A77 release time lag is the shortest in the world, only
0.05 seconds
.
Fastest Continuous Autofocus
Due to the utilization of the translucent mirror technology, the α77 (as other SLT models) is a proud owner of having the fastest continuous AF in the World. No other DSLR camera can beat it, because the α77 has a full-time phase-detection AF, while other DSLR cameras use a Contrast Detection AF. This technology utilizes a semi-transparent mirror that transmit 30% of the light to the AF sensor at the top of the camera, and 70% of the light is passed to the sensor itself. So the mirror is fixed in its place and not moving upwards as in traditional DSLR cameras. This is the reason why SLT cameras were able to achieve such a high burst rate compared to DSLR cameras in the same price category.
The full-time phase-detection AF works in 12fps burst as well when shooting videos. In fact, with videos it's very crucial, especially when shooting a subject that moves around the frame in rapid movements (ie. running kids, horse race, car race, basketball game, animals in the wild, etc.).
Picture Effects (for Stills and Videos)
Picture effects are software based image manipulation that is done in the camera itself, without the need for external software. The Sony Alpha A77 has 11 picture effect modes, including: Posterization (Color, B/W), Pop Color, Retro Photo, Partial Color (Red, Green, Blue, Yellow), Soft High-key, High Contrast Monochrome, Toy Camera, Soft Focus, HDR Painting, Rich-tone Monochrome, and Miniature.
Some of you will probably never touch this feature and I guess many of you prefer editing your photo in
Adobe Photoshop Lightroom
or
Apple Aperture
on your desktop computer. However, sometimes you just want to have fun and apply an effect and upload an edited photo to Flickr or Facebook - so this effect mode might be useful sometimes. Sony put this modes on almost all of its cameras, I think that it comes by default with the latest image processing firmware (jsut a guess). Me, I'm not a fan of this picture effect modes at all, and with the A77 and the targeted market, I think that they are close to be useless - But hey, that's just me.
Now let's take a look how the picture effects on the Sony Alpha A77 look like:
More than that, Sony A77 also features 3D Sweep Panorama™ Mode, Sweep Panorama™ Mode, Face Detection and Registration to remember faces and Smile Shutter™ technology. Pretty cool list of features, whether you'll be using them or not.
530 Shots Battery Life
The Sony Alpha A77V can shoot 530 photos on a single charged battery. This is a good battery life that is below on average with other DSLR cameras.
In comparison (CIPA):
Canon EOS 7D: 800 shots
Nikon D300s: 950 shots
Canon EOS 5D Mark II: 850 shots
Canon EOS 60D: 1100 shots
As you can see, the battery life is not as long as we would expect it to be. I assume that that reason for that is the heavy use of an electronic viewfinder and high processing power that this camera needs in order to operate. So a fully electronic camera (as Sony calls it) might consume (I'm not 100% sure on this) more power and that leads to a shorter battery life. Correct me if I'm wrong here.
If you want to extend the shooting time, you should probably consider buying the VG-C77AM battery grip that was specially designed for the α77 camera. You can purchase the A77 with the grip, extra Sony NPFM500H Li-Ion Rechargeable Battery pack, Lowepro Gadget bag, Willoughbys EST. 1898 Camera Emporium Bundle, 16-50mm f/2.8 Lens and Transcend 16GB Class 10 SDHC Flash Memory Card
from Amazon here
.
The
original Sony A77 VG-C77AM Vertical battery grip
+ extra battery will double the battery life and will provide extra grip and improved ergonomics. I personally need a grip because I have large hands, and when I usually buy a new DSLR, I buy the original grip for the camera too.
Tilting LCD and the Back of the Camera
The Sony A77 has a 3-inch XtraFine TrulBlack 921K-dots Tilting LCD display. A tilting display will help you compose images and shoot videos at angles that are hard to shoot from, like at a very low angle or very high angle when holding the camera above your head. This is the first three-way ((hinge/tilt/swivel) adjustable screen. It will give you freedom for composing your images.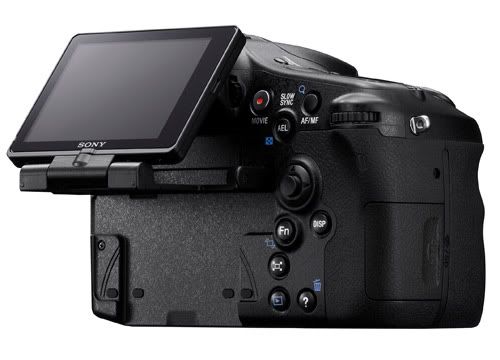 At the back of the camera you can see the many button for accessing popular settings of the camera and a function button that can be customized by you. The buttons are well arranged across the right side of the camera, as the most used buttons are arranges in a circular arrangement in a perfectly ergonomic pattern. The dedicated movie button resides on the right side of the EVF. It looks like Sony spend some time thinking about how to position the button in the most comfortable and most accessible way.
In-Camera GPS Receiver
Some will used it, other won't, but having an internal GPS receiver is always a nice bonus. Some photographers really need it, and because almost all DSLR cameras don't have it, photographers use an external GPS for
geo-tagging
their images. By having a GPS in the camera, you don't need to use a dedicated software to combine the data from the external GPS and the photos. For me it just say that Sony put a lot of thinking before it released the A77 to the massed. Thank you Sony.
Where can I buy the Sony A77?
You can order the Sony A77 online from the following merchants:
Buy Sony A77 from Amazon
Buy Sony A77 from B&H Photo
* Pre-order